Coral Rescue - Conserve Together [UTokyo-IIS Bulletin Vol.11]
Coral Rescue is an experience design project to encourage the general public in coral conservation. The self-growing coral kit helps to grow corals at home and bring the home-grown corals back to the ocean. This encourages new interactions with nature to protect marine biodiversity.
On 8 December 2022, DLX Design Lab, Institute of Industrial Science (IIS), The University of Tokyo (UTokyo) and The Division of Industrial Design (DID) under the College of Design and Engineering as well as the Tropical Marine Science Institute (TMSI) of the National University of Singapore (NUS) released "Coral Rescue - Conserve Together".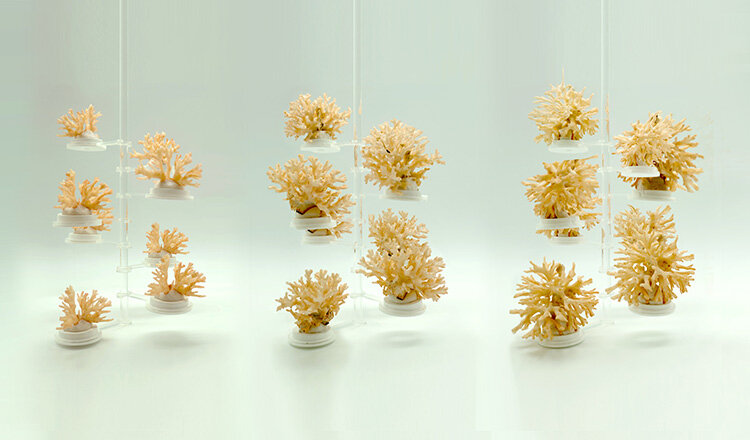 The project's aim is to encourage the general public to engage in coral conservation thereby contributing to maintaining marine biodiversity, now and in the future.
This will be achieved through a mixture of design artifacts and activities enabling us to reach a wide range of people. We have designed a self-growing coral kit (which would be publicly accessible) that enables anyone to cultivate coral at home. The self-growing coral kit is a water tank with a designed rig to help with coral nurturing. Different coral species should be used in reef restoration initiatives to maximize the recovery of marine biodiversity and ecosystem functioning. Corals are slow growing. Depending on the coral's species, they can take approximately 3 - 6 months to reach a suitable size for transplantation to the reefs. Once the home-grown coral reaches an appropriate size it can be returned to the sea by experienced divers. We have also developed a workshop format to educate people about the issues and encourage engagement. For this, we have created support tools such as displays of local Singapore corals and flashcards related to coral research. In the future, we would like to build an online network to enhance activities between researchers and local volunteers.
The main challenges faced by researchers in coral conservation include the cost of coral restoration, climate change impacts and the lack of support from the general public. In Singapore, the existence of corals is not widely recognized because of the lack of seawater transparency. Singaporeans are accustomed to city life and they are not really aware of the existence of coral reefs nearby. With this Coral Rescue project, we are hoping to enhance the general public's awareness and support for the conservation process.
The lead design researcher is Tomomi Sayuda from the DLX Design Lab at UTokyo-IIS, who has been kindly hosted at NUS by the DID and the Keio-NUS CUTE Center. The project has been informed and inspired by the coral conservation research activities of TMSI at NUS, in particular those undertaken by Dr Tai Chong Toh and Sam Shu Qin.

Coral Rescue - Conserve Together - / Open Access Coral Conservation
Further information
Related links