Making electric vehicles green energy consumers [UTokyo-IIS Bulletin Vol.10]
Project Associate Professor Baba and Project Research Associate Imanaka are devising methods to boost EV usage as a key adjuster of Japan's electricity demand.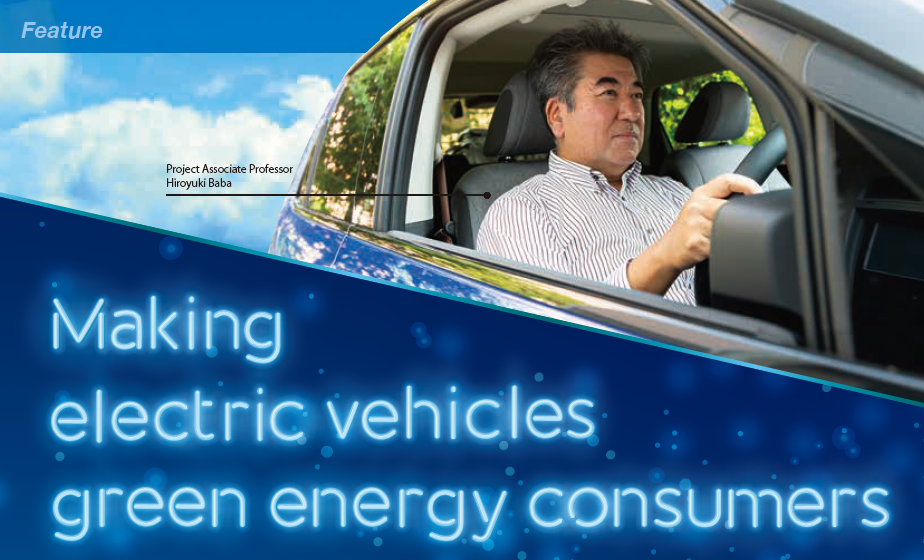 To help prevent the worst consequences of climate change, Japan and more than 100 other nations have pledged to achieve carbon neutrality, or net-zero carbon dioxide emissions. However, Japan lags far behind many European nations in the wide adoption of Battery Electric Vehicles (EV hereinafter), which have been touted as eco-friendly because they do not emit greenhouse gases. To rectify this situation, Project Associate Professor Hiroyuki Baba and Project Research Associate Masaki Imanaka, both of the Institute of Industrial Science, the University of Tokyo (UTokyo-IIS), are developing IoT-based technologies to charge electric vehicles in a more eco-friendly manner by adjusting demand for electricity generated from renewable energy sources.
Project Associate Professor Hiroyuki Baba is harnessing his decades of experience in electronics in the private sector as he conducts research on a demand-side power system using the Internet of Things (IoT), in which EVs play a leading role in adjusting electricity demand by storing power in their batteries.
Baba worked for Tokyo Electric Power Company, one of Japan's major utilities, for 30 years. As a 38-year-old executive, Baba was dispatched to a joint venture the utility established with the task of developing and providing a wireless, high-speed Internet communication system. Baba joined IIS seven years ago and his input -- together with other researchers -- has culminated in the development of IoT-HUB, an innovative system that is essential for controlling power demand.
"EV and other devices' batteries can be charged when there is surplus electricity supply, such as in the daytime during public holidays or in spring and autumn, and taken off the charger when the supply is tight, such as on wintry days," Baba said at IIS' Comfort Management (COMMA) House, an experimental smart house where IoT-HUB was developed. "This requires electricity retailers to remotely control power demand, via the Internet, of EVs and various devices with different communication protocols. We want to use IoT-Hub for this task."
Failure to maintain balance in the electricity grid could result in blackouts. The increase in renewable energy production, which can fluctuate greatly depending on the weather, has made maintaining this balance increasingly difficult.
Japan is walking a tightrope when it comes to balance in the power grid. Recently, electricity users were asked several times to save energy to avoid a blackout. On the other hand, feeding various renewable energy sources, such as solar and wind power, into the grid has frequently been restricted for the same reason.
Maintaining the balance will be even more crucial in the future. Japan's government aims to increase the proportion of renewable energy in the total power output to 36%-38% by 2030 from 22% as of March 2022 (data from the International Energy Agency). This is where EVs come in to assist thermal power for achieving a balance in power supply and demand, according to Baba and Project Research Associate Masaki Imanaka.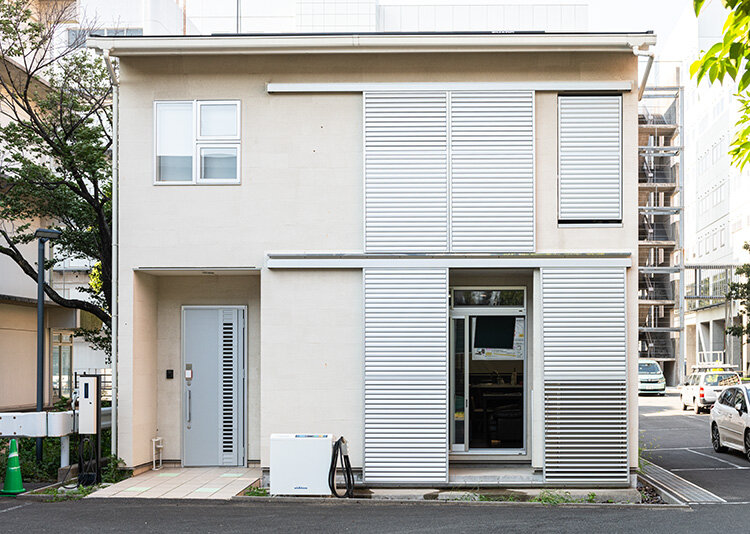 COMMA House
EV charging test bed on campus
Baba and Imanaka are using a test bed for charging EV batteries, set up on UTokyo's Komaba Research Campus, to help solve problems associated with charging EVs that hamper wider use of these vehicles in Japan.
In 2021, EVs and plug-in hybrids accounted for about 1% of Japan's new car sales, compared with 15% for China and the entire European Union, according to IEA statistics. European nations Norway (86%), Iceland (72%) and Sweden (43%) boast much higher proportions of eco-friendly cars among new vehicle sales.
The research team has built up the test bed to study issues such as simplifying a user authentication system for recharging EVs that many say is cumbersome; encouraging drivers to charge batteries during the daytime when solar power can be easily generated; and changing the billing system to allow the cost of charging at a destination or EV station to be included in home electricity bills.
"We also need more charging stations," Imanaka said. Only 21,198 EV charging stations were operating across Japan as of March 2022, according to the Next Generation Vehicle Promotion Center.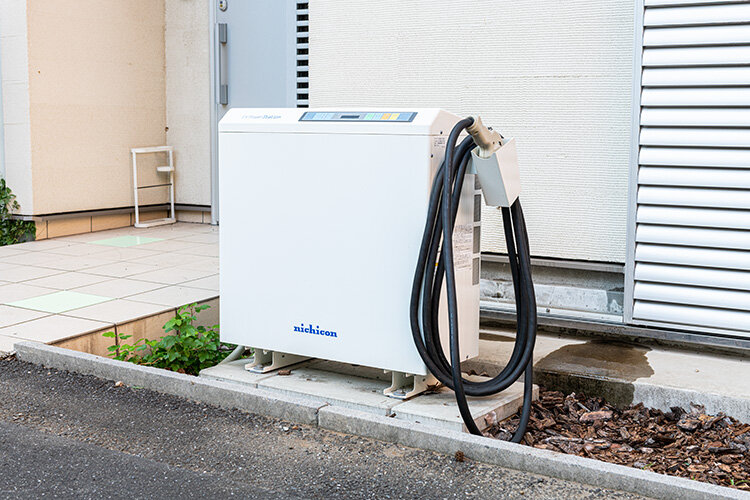 EV Charging test bed
IoT-HUB: A handy tool to adjust power demand
The use of IoT-HUB is key. The interconnection infrastructure system can quickly connect EVs and apps that control the charging of their batteries. Based on electricity balance forecasts provided by power companies and information on stored electricity in batteries, apps boost EV charging power when a supply surplus is forecast and slow or stop charging when a grid power shortage is projected.
The cloud-based system is capable of connecting devices made by different manufacturers and with different communication protocols, by using a "driver," similar to the software that allows a computer to interact with a printer manufactured by a different maker. This system is capable of connecting to electric appliances including EV chargers, heat-pump boilers, air conditioners and storage batteries, and controlling their power usage. The system has already been put to practical use in some areas, Baba said.
EVs should be powered by green energy to make them truly eco-friendly. According to IEA data, renewable energy accounted for 22% of Japan's electricity in 2021, about the same as India and the United States (both 21%), but far less than Sweden, Brazil and Canada (80%, 75% and 74%, respectively), which generate 50% or more through hydropower. "If Japan's proportion of renewable energy reaches 40% to 60%, EVs in Japan could be powered mainly by renewable power," Imanaka said. Citing one study, Baba said increasing Japan's total energy output by 10% would be enough to power all passenger EVs.
Ultimately, Baba said, EVs must be more convenient and attractive than gasoline-powered cars to gain wider acceptance. "The key is autonomous driving," he said. "When EVs can be driven autonomously, it could open the door for various driving apps developed by third-party companies -- like the Internet eventually led to the development of a myriad of smartphone apps. When that happens, EVs will be totally different vehicles from gasoline cars."
Baba recently organized a study group among experts from academia and the business sector dedicated to commercializing a communication infrastructure solely for a demand-side power system based on IoT-HUB. "I have been fortunate to develop a superb network of people in academia and the private sector, and many of them are joining my research projects," Baba said.
Further information
Related links