Honorary doctorate bestowed upon Prof. Toru H. Okabe by the Norwegian University of Science and Technology (NTNU) [UTokyo-IIS Bulletin Vol.8]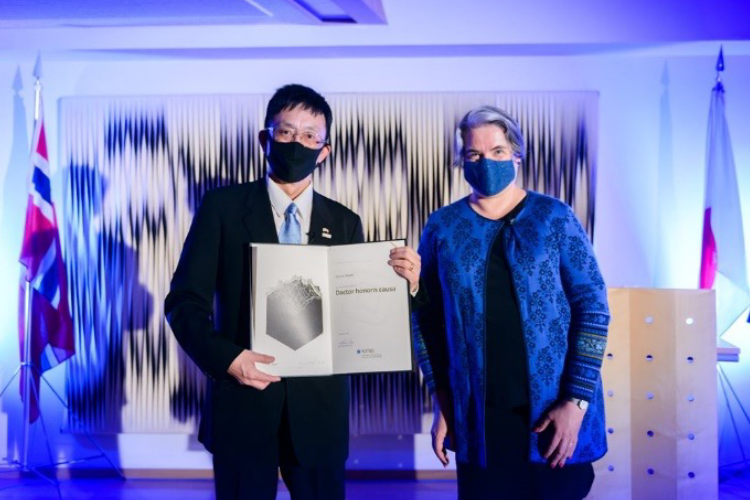 Norwegian ambassador Inga M. W. Nyhamar presenting the honorary degree to Prof. Okabe
On Friday, March 26, 2021, Professor Toru H. Okabe was awarded an honorary doctorate, i.e., Doctor Honoris Causa at the Norwegian University of Science and Technology (NTNU), for his contribution to "URBAN MINING" for developing new and more sustainable methods for the production and resource recovery of metals used in modern electronic devices.
This award symbolizes the world leadership of Japan in this research field.
The conferral of honorary degrees at NTNU has a long history dating back to 1935, with 97 recipients to date. Professor Okabe is the third Japanese recipient of this honorary degree, which was also given to Professor Hiroyuki Yoshikawa, a former president of the University of Tokyo, in 2001.
The honorary doctoral award ceremony, which had been postponed because of the COVID-19 pandemic, was held online by the NTNU in Trondheim, Norway, and the Norwegian Embassy in Japan. In this first of its kind online ceremony, Anne Borg, Rector of NTNU, conferred an honorary doctorate via Inga M. W. Nyhamar, the Norwegian Ambassador, to Professor Okabe in Japan. The ceremony was well organized by the university and embassy officials.

The ring presented along with the honorary degree 
Rector Anne Borg of NTNU, Norway conducting the honorary doctoral award ceremony
Prof. Okabe receiving an honorary degree from the ambassador at the Norwegian embassy in Japan
Prof. Geir Martin Haarberg, NTNU, Norway, introducing Prof. Okabe's research contributions with a global impact
Further information
The video of the award ceremony can be seen on YouTube:
https://www.youtube.com/watch?v=k5Ig9nDX-W0
The list of achievements of the recipient can be found on the following link:
https://no.wikipedia.org/wiki/Toru_H._Okabe
Related links