DLX - Design Lab & UTokyo NY Office presents: Blueprint Designathon 2019: Smart Cities
A collaboration between UTokyo and Columbia University in the City of New York
On March 2nd 2019 the largest Design Thinking workshop that the DLX - Design Lab has held was conducted at Columbia University in New York with the support of the UTokyo NY Office. It was a collaboration with the Columbia Organization of Rising Entrepreneurs (CORE), Barnard-Columbia Design for America and the Columbia Makerspace. More than 80 students from diverse disciplines joined the full day event.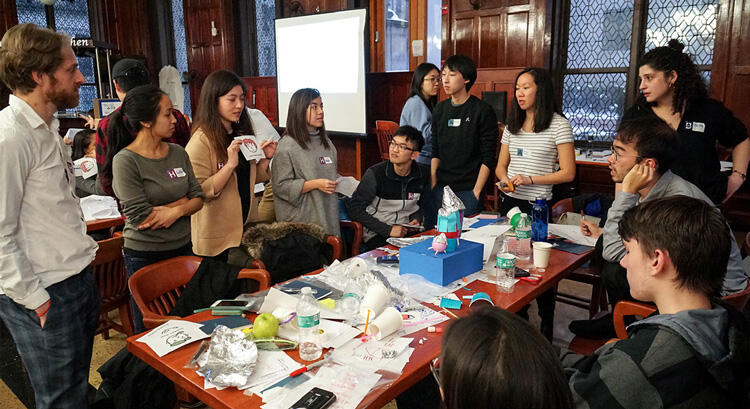 Tokyo and New York are both megacities and have similar issues but also differences for example around economy, infrastructure and society. We were wanted to explore this further and thus set the theme of the workshop as 'Smart Cities'. We took many insights from the research that is happening at IIS like 'My City Forecast' from Sekimoto Lab or local Japanese cultural solutions like 'Zero Waste Village' in Kamikatsu. The participants' goal was to develop exciting solutions for complex and dynamic issues such as climate change, ecosystem decline and social inequality in the context of 'Smart Cities'.
The workshop gave the students an introductory experience of creative tools to generate ideas, iterate concepts and focus on disruptive innovation solutions for the society of tomorrow. We showed them that rapid ideation is key to create a big pool of ideas but that also it is important to spend time and energy on a rigorous selection process to identify the most promising ideas. The workshop was located in the elegant John Jay Hall and we were also lucky enough to have three special guests from Frog Design, Lime and Flywire to talk about the theme from their professional perspective. Furthermore, IBM and Smart Design provided judges to help select the best ideas from the day.
The workshop was a great opportunity to bring the DLX - Design Lab methodology out of the laboratory and to run it with a large audience. This was just the first step in establishing a strong partnership with Columbia University and helping expand our global network. The next step would be to look at starting joint research projects perhaps utilising a new way of working which we call the DLX Open Innovation Platform - watch this space!