RCA-IIS Tokyo Design Lab × Kobayashi Lab × Matsudo City - An interactive installation at the Tokyo Gaikan Expressway Matsudo IC Opening Event
The Tokyo Gaikan Expressway Matsudo Interchange was open to traffic in June 2018 after 50 years of construction. The expressway is a national beltway that connects the greater Tokyo area. To celebrate the opening of the expressway and the interchange, an opening event was held on May 12th, 2018.
As a featured exhibit, an interactive installation named "The Future Tunnel" was created by The RCA-IIS Tokyo Design Lab inside one of the expressway tunnels. It was based on research and technology from Kobayashi Lab at the CSIS - Centre for Spatial Information Science - University of Tokyo.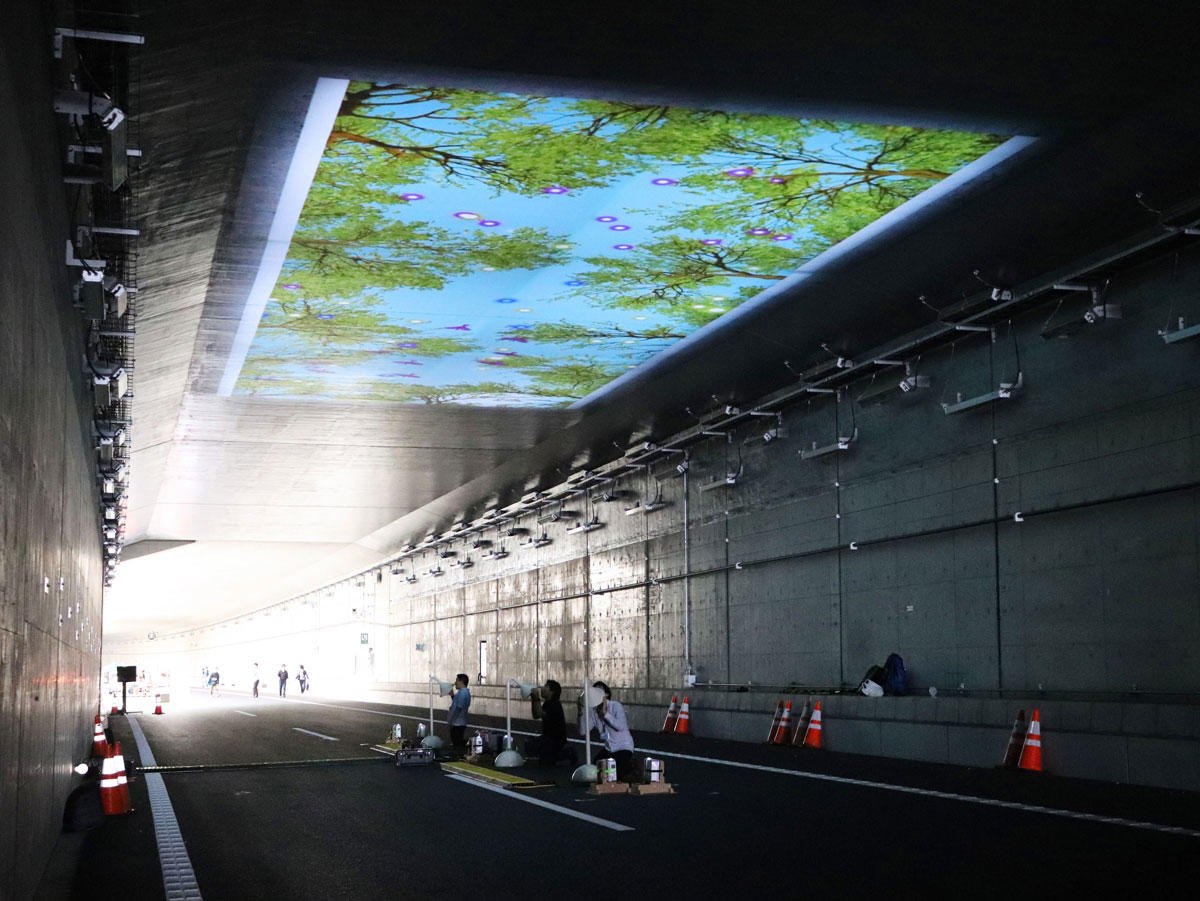 The team testing "The Future Tunnel"
The Future Tunnel connects and visualizes the voices of the tunnel visitors and a live sound feed of nature and wildlife from a forest in Yamanakako. The connection to the forest is implemented via Tele Echo Tubes (TET) which not only receive the sounds from nature but also send the voices of the visitors to the forest to enable interaction with wildlife and mountain echoes. To make the experience more immersive blue skies and forest trees are projected onto the ceiling of the tunnel. The chirping sounds generate vibrant images of birds as they fly across the ceiling. The voices of the visitors are also visualized as virtual sound particles that emerge and diffuse.


"The Future Tunnel" installation Diagram
During the event, science talks were carried out by the project scientists, designers, and director, to enable the public to learn more and ask questions about the research and the process of creating the installation.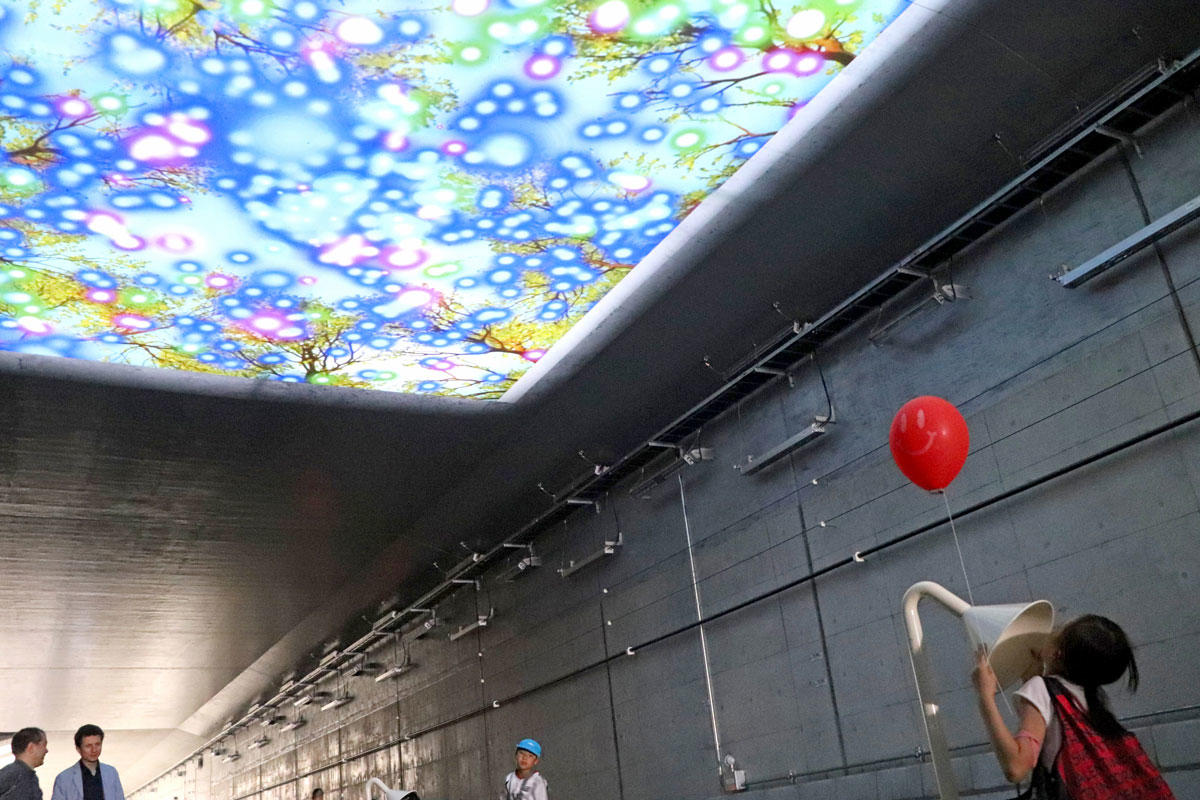 Kids enjoying "The Future Tunnel" installation
We believe that in future cities, technologies such as IoT(internet of things)and AI (artificial intelligence) can be connected with nature in new ways to enable societies better coexistence with the environment.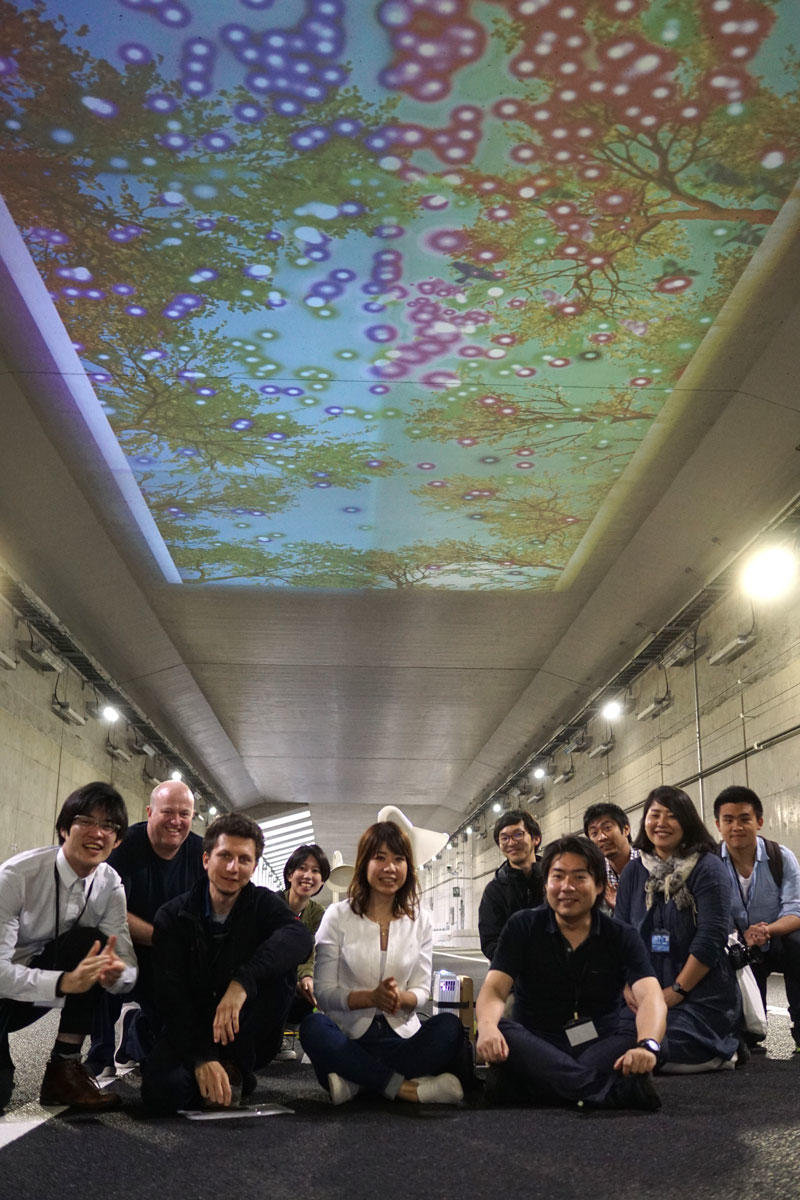 Future Tunnel Project Team
Credits:
Technology: Hill H.Kobayashi and Daisuke Shimotoku (Center for Spatial Information Science)
Design: Yuri Klebanov and Kota Isobe (RCA-IIS Tokyo DesignLab)
Director: Yoko Shimizu
Project support: 0! and Matsudo City Tourism Association