A model of ingenuity [UTokyo-IIS Bulletin Vol.8]
Project Professor Sekimoto develops first nationwide pseudodata of how people move around in Japan for the post-COVID-19 world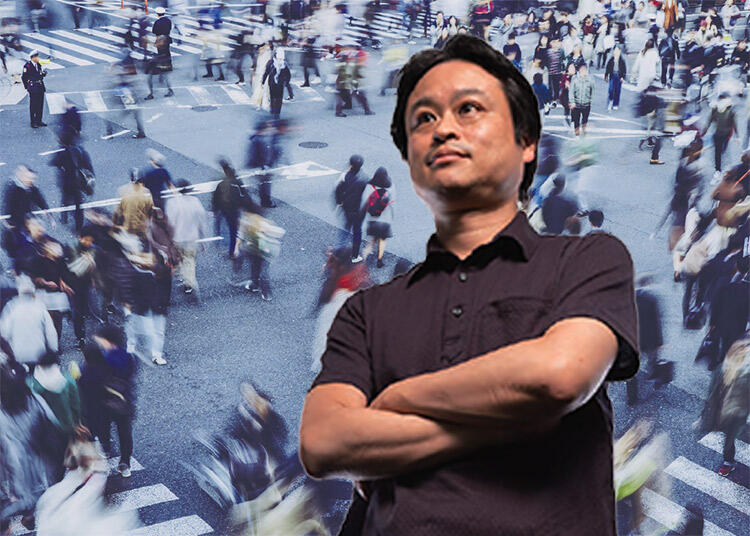 The COVID-19 pandemic has demonstrated how crucial it is to control people's movement if we want to contain the virus's spread. Project Professor Yoshihide Sekimoto of the UTokyo-IIS, the University of Tokyo (UTokyo-IIS), is pursuing an ambitious project using samples of recorded data to create pseudodata on how people move around the whole of Japan. The use of the data will circumvent lengthy, cumbersome processes to clear privacy issues related to sharing data, including those from the global positioning system (GPS) collected by mobile carriers.
In the latter half of the 2010s while conducting his research, Project Professor Yoshihide Sekimoto, a specialist in human-centered urban informatics, repeatedly hit privacy-related stumbling blocks while exploring ways to share GPS data for tracking the movement of people.
"GPS data from cellphones are extremely useful in discovering various phenomena," said Sekimoto who tracked the flow of people in the Tokyo metropolitan area right before and after the 2011 Great East Japan Earthquake for the first time using GPS data. "But such data (even after being processed) cannot be shared with other researchers due to stringent regulations over personal data, meaning there is no data widely available on the movement of people as a common asset."
The restrictions prompted Sekimoto to seek an alternative way to assess the movement of people without using GPS data - albeit one that would be less accurate. But the emergence of COVID-19 was the driver behind Sekimoto's push to generate pseudodata - data which simulates real-life behavior - for research.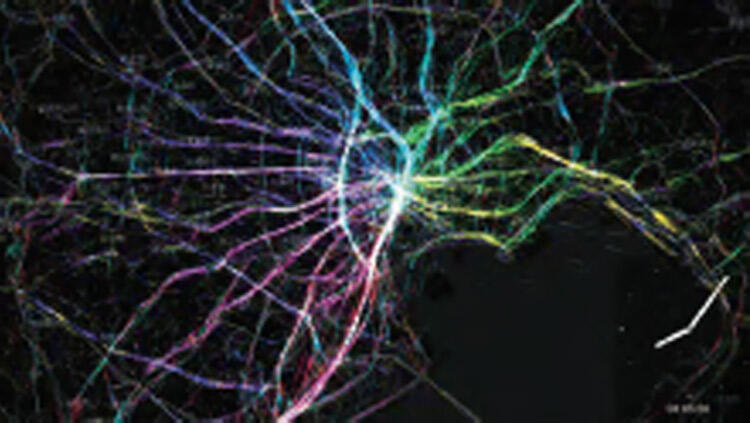 Flow of people when the Great East Japan Earthquake occurred
Pseudodata proves its worth
A team led by Sekimoto, who also serves as professor at UTokyo's Center for Spatial Information Science, has so far generated pseudodata on the movement of people in Shizuoka and Toyama prefectures, the former of which faces the Pacific, and the latter, the Sea of Japan.
Shizuoka Prefecture is the 10th most populous of Japan's 47 prefectures with a population of 3.6 million as of 2019, while Toyama Prefecture ranks 37th with a population slightly over 1 million.
But how did the Sekimoto manage to model how people move around without using GPS data?
His team used national census data to gain knowledge about the ages and genders of people living in communities and combined them with available open or low-cost data, including those extracted from buildings and means of transportation. Sekimoto then defined three agent-based models for the data: commuters who leave their house in the morning and return in the evening; housewives or househusbands who occasionally visit grocery stores and other destinations nearby; and students who commute to their primary, middle or high schools.
"The pseudodata based on this method so far had a correlation coefficient (a statistic used to show how the scores from one measure relate to scores on a second measure for the same group of individuals) score of 0.75 compared with the actual GPS data," Sekimoto said, explaining that a coefficient score of 1.0 is a perfect match between the two sets of data. "In certain areas, we succeeded in recreating traffic volumes by time slot with a high accuracy."
The team plans to complete pseudodata covering all of Japan by the end of this year as it aims to hone to attain a correlation coefficient score of 0.9. To improve the data's accuracy, the team will identify destinations of each of the distinct models, such as commuters' workplaces, with more accuracy, and then add more models for other demographics including senior citizens.
"We are preparing to allow researchers to share our urban digital twin (a virtual representation of an urban area) made based on people-flow pseudodata during the pandemic and beyond," Sekimoto said.
Wide range of applications possible
Sekimoto first got involved in the study of the movement of people when the People Flow Project was launched at the Center for Spatial Information Science in 2008 when no GPS data was available.
"I wanted to roughly track the movements of millions of people," he said. He initially used the results of surveys questioning how people moved around before GPS data became available in the 2010s.
One of his research topics using GPS data was to analyze how people evacuated in the wake of major earthquakes such as those in East Japan in 2011 and Kumamoto in 2016. He also analyzed how people's contacts affected the spread of COVID-19 - only to find once again that this research data could not be shared with other researchers.
Pseudodata, on the other hand, will facilitate data sharing among researchers, a step that can make significant contribution to scientific advancements - be it infection control or disaster management. The data is expected to be available for researchers free of charge by the end of the academic year in March 2022.
Its development also has implications overseas. Previously Sekimoto had to sign a memorandum of understanding with each Asian cellphone carrier to conduct research, which limited the setting for research to the country where it was located. "If we use pseudodata, we can share them among researchers across the world," he said.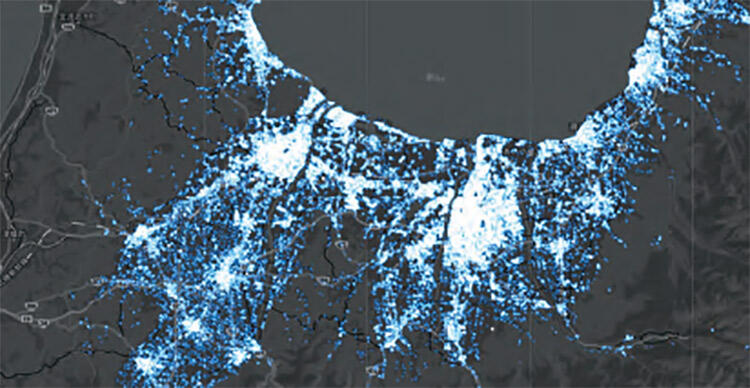 Visualization of people's movements across all of T oyama Prefecture (at noon, on a weekday)
3-D digital twin to transform urban informatics
Sekimoto, in his work as a researcher, is also focusing on the high-speed generation of a three-dimensional, hot-standby digital twin that allows users to look at a digital map while also obtaining detailed, relevant data with a click, through the use of software Sekimoto is developing.
Sekimoto wears many hats in addition to his academic positions. He is the head of the Association for Promotion of Infrastructure Geospatial Information Distribution, a nonprofit organization dedicated to collecting and distributing data related to social infrastructure. One of the latest pieces of information the association unveiled was related to a massive mud slide that struck the Atami hot spring resort in Shizuoka Prefecture - within 24 hours of when disaster struck on July 3, 2021.
He also serves as a director of UrbanX Technologies, Inc., a start-up launched in 2020 by one of his former graduate students, Hiroya Maeda. The company provides data collected by mobile phones and dashcams and analyzed with artificial intelligence (AI) for road maintenance. Its technologies are based on research Maeda conducted under the guidance of Sekimoto.
Maeda has described Sekimoto as a down-to-earth teacher who can steer his students toward interesting research topics like his.
"Maybe my demeanor lacks a kind of gravitas usually associated with a university professor," Sekimoto laughed. "But I try not to put up unnecessary barriers between me and my students so that they can engage in their work in a free atmosphere."
Further information
Related links
UTokyo-IIS Bulletin Vol. 8 is now available
Tokyo's Voluntary Standstill May Have Stopped COVID-19 in its Tracks