Continental UTokyo-IIS Global Engineering Fellowship -- New opportunity for UTokyo-IIS students aspiring to make international contributions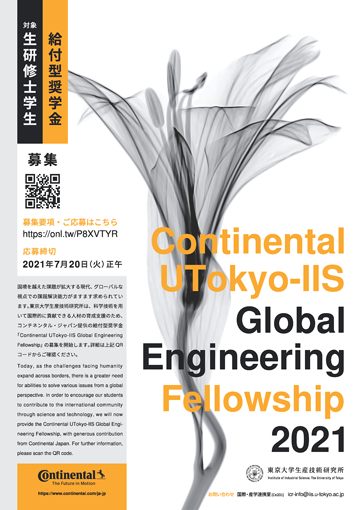 Today, as the challenges facing humanity expand across borders, there is a greater need for abilities to solve various issues from a global perspective.
As a new initiative at IIS, we will now provide the Continental UTokyo-IIS Global Engineering Fellowship, in order to encourage our students to contribute to the international community through science and technology.
Continental Japan has been providing support for the research exchange program between UTokyo-IIS and Technische Universität Darmstadt in Germany, but calls for applications are currently on hold due to COVID-19. Several discussions have taken place about what can be done under the circumstances, and led to the birth of this fellowship. We hope this new fellowship will be a catalyst for UTokyo-IIS students to spread their wings to the world.