Pecans for Revitalizing Japanese Agriculture and Local Economy
Institute of Industrial Science (IIS), as well as the Graduate School of Agricultural and Life Sciences (ALS), the University of Tokyo, established the Pecans for Revitalizing Japanese Agriculture and Local Economy Project, working with the city of Rikuzentakata in Iwate Prefecture and confectionery manufacturer and distributor Salon de Royal (SDR) in a joint research contract and partnership accord. On the 28th of July, a signing ceremony was held for this agreement at the Rikuzentakata City Hall.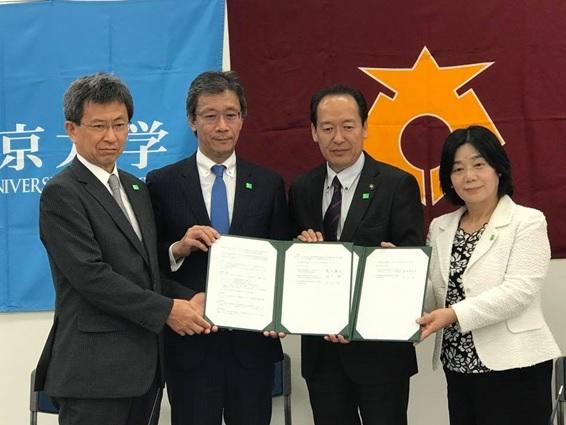 (From left) Takeshi Tange, Dean of the Graduate School of Agricultural and Life Sciences,
Teruo Fujii, Director General of Institute of Industrial Science,
Futoshi Toba, Mayor of Rikuzentakata City,
Machiko Maeuchi, CEO of Salon de Royal Co., Ltd.

The pecan, a member of the walnut family originated in North America, is known for its high nutritional value, antioxidant effects, and great texture. It is grown en masse in the U.S. state of Arizona, and notable not only because its demand is rising globally, but also because it is a highly profitable agricultural crop. Today, Japan continues to import 300 tons per year, and none are planted there on any large scale.
IIS and ALS enlisted the help of Arizona-based North Bowie Farming and New Mexico State University in research to develop high-efficiency planting methods using Unmanned Aerial Vehicles (UAVs) and sensor net technology (IIS) and select optimal crops for domestic planting using genome data (ALS). Further, the project gained the support of SDR, which handles one-third of imports of pecans into Japan. SDR established Rikuzentakata as the home base for this project in the intent to support revitalization of the city and of Japan's agriculture industry. Thus, the parties have decided to sign this agreement.
On August 1st, SDR founded the company Golden Pecan in Rikuzentakata, partnering with local elderly facilities to research and develop health functional foodstuffs. It plans to construct trial facilities in the city's elevated land area, including stores, cafes, and processing factories. This year, the Golden Pecan intends to begin trial planting of crops in order to develop products and survey the market, with 2018 targeted for establishment of tree nurseries, and 2020 for the launch of plantings of domestic pecans for commercial sale.
It is hoped that this project will serve as a model for regional revitalization by utilizing Rikuzentakata's idle land to construct a base of pecan production ? from raw material to processing and commercial production ? and to make Rikuzentakata the home of Japan's domestic pecan crop in the same way that the Napa Valley is known for its wines.
<Would you like to join the Pecan project? Please contact below.>
●Interested in Agricultural Production
 Dr. Kazuo OKI, Associate Professor, IIS, the University of Tokyo
Secretary General, Special Research Group on Food Production Technology
 <kazu@iis.u-tokyo.ac.jp>
●Interested in Pecan Market Development
 Ms. Machiko MAEUCHI, CEO of Salon de Royal Co., Ltd.
<machiko-maeuchi@s-royal.com>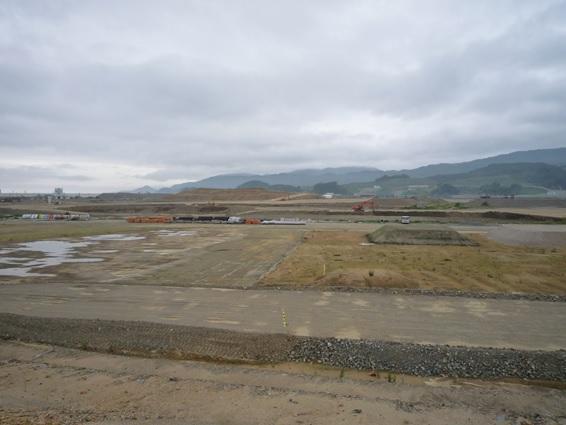 Large area of land elevated high above sea level in Rikuzentakata