Access to Komaba Research Campus
4-6-1 KOMABA MEGURO-KU, TOKYO 153-8505, JAPAN
Please enter through the main gate when arriving by automobile or motorcycle.
The main gate is open from 7:30 a.m. — 9:00 p.m.
The east gate and the west gate are open from 8:00 a.m. — 8:00 p.m. (weekdays).
Please use your IIS card when the gates are closed.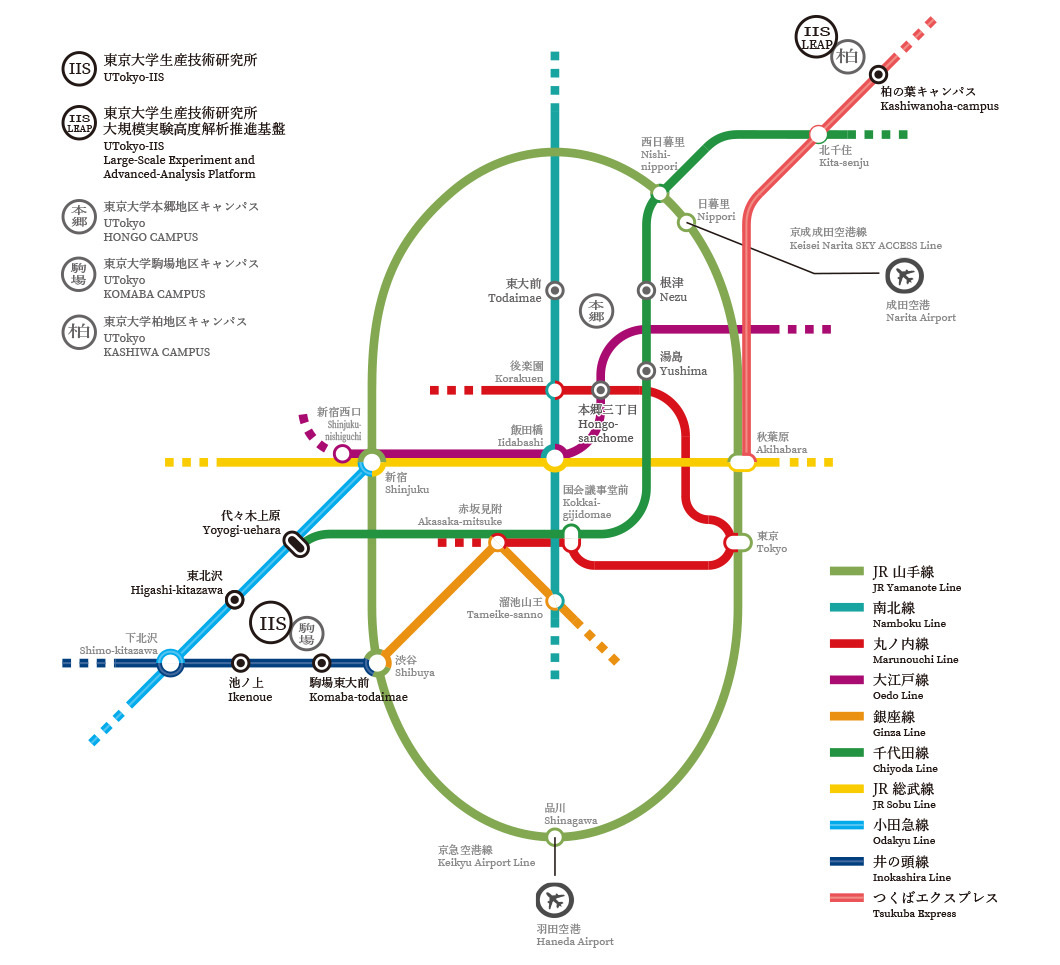 Odakyu Line / Tokyo Metro-Chiyoda Line
8-min walk from Higashi-Kitazawa Station
12-min walk from Yoyogi Uehara Station
Keio Inokashira Line
10-min walk from Komaba-Todaimae Station
10-min walk from Ikenoue Station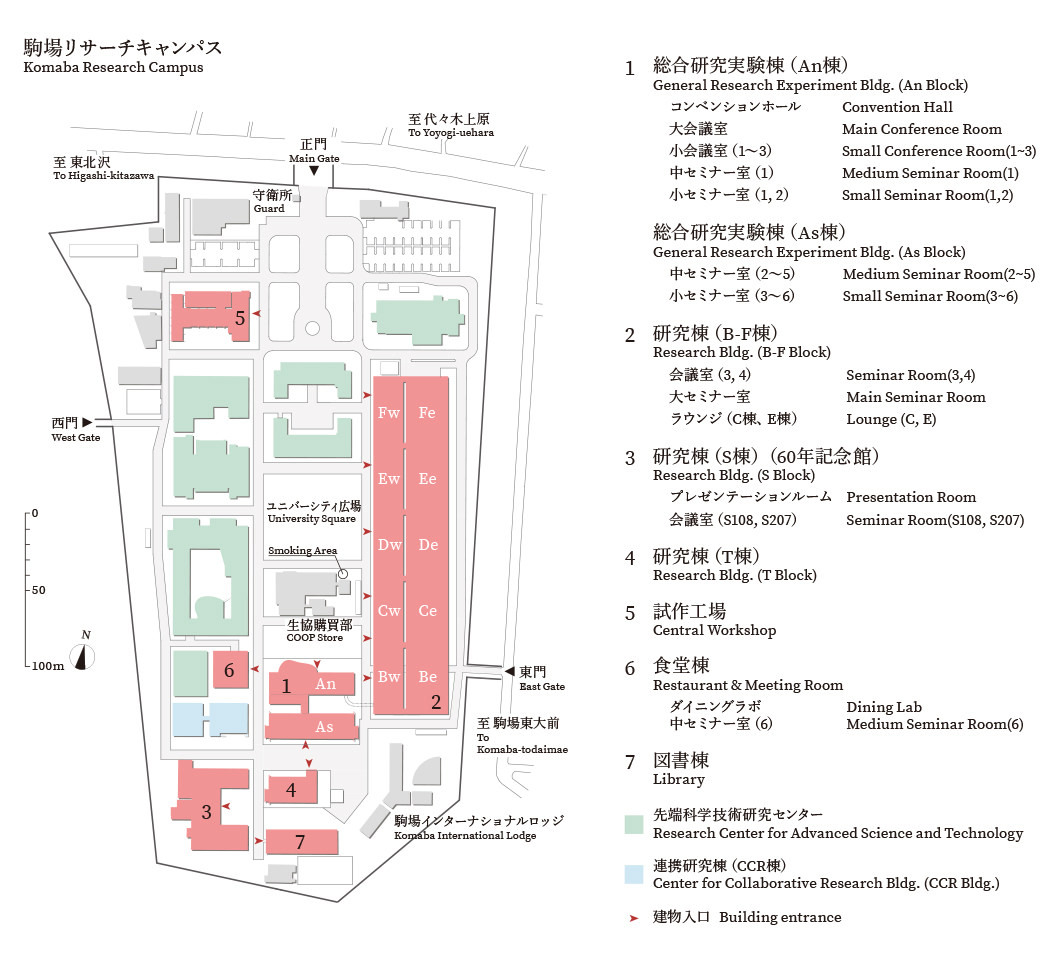 Inside map of research buildings
The entrance of the General Research Experiment Building (An Block) is located at the north side. Entrances of the Research Building (B - F block) are located along the west side.
All entrances are open from 8:00 a.m. - 8:00 p.m. (weekdays).
When the entrances are locked, please contact IIS to arrange access.
Except for special cases (emergency, business transportation, etc.), no automobiles or motorcycles are allowed on this campus.
Please park in the parking area to the east of the main gate.
Please park bicycles as designated on the plot.
The elevators and the stairs leading to the laboratory are located only on the west side of each building.

As block, An block, B-F block
The elevators and the stairs are located at the western side.
Lavatories are located at the western sides of the BB, CD and EF cores. The "men's" and "women's" are on separate floors.
The vending machines are located at each kettle room.
Carrying heavy materials is prohibited on the passageways between the western and eastern sides in the E and F blocks.
The western corridors above the fourth floor level are partially outdoors.
The 7th and 8th floors of B block are accessible only via the elevator of the BC core. Likewise, the 8th floor of the F block is accessible via the elevator of the FF core.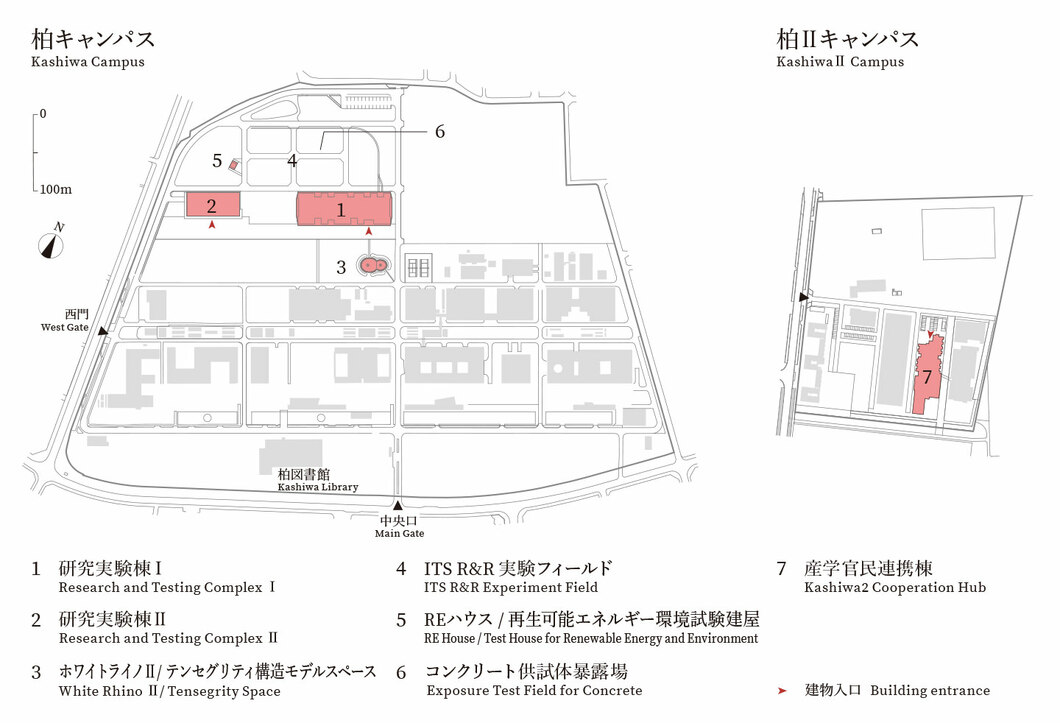 Map to Kashiwa Campus
5-1-5, Kashiwanoha, Kashiwa-shi, Chiba 277-8574 JAPAN
Map to Kashiwa II Campus
6-2-3, Kashiwanoha, Kashiwa-shi, Chiba 277-0882 JAPAN