---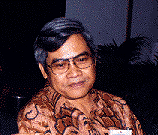 Yuswadi Saliya, Ir (ITB), M. Arch (EWC, Hawaii), IAI, LSAI.
Chairman, LSAI
---
A Short Introduction
---
1.
Born in Bandung, on June 15, 1938, sixth son ut of ten. Graduated from Department of Architecture, Institut Teknologi Bandung (ITB), in 1966, was recruited directly to be a staff member of his alma mater ever since. Earned his Master degree in University of Hawaii at Manoa, Honolulu, USA (East-West Center), in 1975. His thesis is on Balinese Traditional Architecture, titled: Spatial Concept in Balinese Traditional Architecture, Problems and Possibilities. Presently he is a senior lecturer in Theory, History and Criticism for both undergraduate and graduate (Master Programme) schools.
2.
1977-1979 Secretary to the Dept of. Architecture, Institut Teknologi Bandung (ITB.)
1979-1985 Head of Dept. of Architecture, ITB.
1985-1987 Vice Dean for Academic Affairs, Faculty of Civil Engineering and Planning, ITB.
1970-1973, 1975-1984 Member of Educational Development Team adjunct to Vice Rector for Academic Affairs, ITB.
1988-1992 Member of Office for Research and Development, ITB.
3.
Conducted Research/Studies in Traditional Architecture, a.o.:
Aceh, Sumbawa, Halmahera (1977/78),
Toraja (1979),
Nias (1982),
and also fieldworks in
Yogyakarta/ Kotagede (1969)
Cirebon (1984),
Northern Coastal Towns of Central and Eastern Java (1990),
Baduy (1992),
Lombok-Sumbawa (1993),
East Nusa Tenggara (1994.)
Actively attended both international and national seminars/ workshops on Architectural Education, Theory and History, Issues on Criticism, and Socio-cultural and/or Econo-political aspects of architectural practice.

Chief Editor to critical analyses of architectural design/ works and projects of the founding fathers of Indonesian Architecture namely Dipl. Ing. Sujudi (1991), F.Silaban (1992), and Dipl. Ing. Y. B. Mangunwijaya (1993.). Wrote several articles to be anthologized (1980, 1982, 1994.)
4.
Formed a private design office PT. Atelier Enam with five other fellow architects in 1969.
Chief Designer of first prize winner in a national competition for Jakarta Pavillion in Taman Mini Indonesia Indah (1969/70),
Executive Annex to Hilton Hotel, Jakarta (1971/73),
an Indonesian Institute of Architects' prize winner as an Outstanding Design Solution (1985),
team member for several competition entries, and Master Plan projects.
5.
Professional Association Membership:
Indonesian Institute of Architects (IAI.)
Institute of Indonesian Architectural History (LSAI.)
International Council on Monuments And Sites (ICOMOS.)
He can be contacted in:
Office:
Dept. of Architecture, 
Institut Teknologi Bandung (ITB)
Jalan Ganesha No. 10. Bandung 40132, INDONESIA
Tel. 062-22-2504962 
Home:
Jalan Kanayakan No. A-4
Kompleks Perumahan ITB.
Bandung 40135, INDONESIA
Tel. 062-22-2503971
---
Return to LSAI's Homepage.