---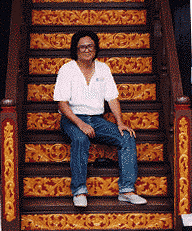 Sutrisno Murtiyoso
Secretary General, LSAI
---
A Short Introduction
---
Sutrisno Murtiyoso was born 40 years ago in the center of central Java. He spend his first 16 years in the convoluted landscape at the northwest corner of the ancient Kedu plain where the flat and fertile plain uprooted by the twin peak Sumbing and Sundara. So naturally and essentially, he is a country boy, an eternal kampungan.
For high school education he had to go to the province's capital, Semarang, as his hamlet had not have one at that time. After that he spent a dozen year in Bandung and eventually (unfortunately?), finished his architectural education in UNPAR. Since then he lived, taught, researched, wrote, and mainly lolling around, in Bandung.
He has a lot of interests in his life. Life's too rich to be narrowed down to one or two spots, he said once. Fortunately the core is found revolving around history and architecture. He busied himself with Indonesian architectural history, and dreamed of creating an outline for it, someday. Someday.
He can be contacted in:
or by snail mail to
Jl. Karangarum 8
Bandung 40162, Indonesia.
---
Return to LSAI Home Page