---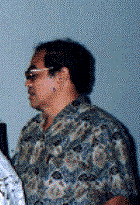 Sandi Aminuddin Siregar
Ir (UNPAR), M. Arch (KUL), DR. (KUL), IAI, LSAI.
Vice Chairman, LSAI
---
A Short Introduction.
---
Was born in Madiun June, 24 1945; Sandi Siregar received his Ir. (Ingenieur degree) from UNPAR in 1973. Both his Master and Doctorate degrees were received from Katholieke Universiteit Leuven, Belgium. The former was in 1976 and the later, as Doctor in de Toegepaste Wetenschappen (Doctorate of Applied Sciences - Ph.D.) in 1990; with the thesis: Bandung, the Architecture of a City in Development: urban analysis of a regional capital as a contribution to the present debate on Indonesian urbanity and architectural identity. This thesis was promoted by Prof. Andre Loeckx.
At present he teaches in his native Universitas Parahyangan in Bandung. He gives lectures in Architectural Design, Urban Design, and Architectural Typology.
In professional circle he is known as a senior architect in the office of PT Ciptapura Architects & Engineers.
Since 1992 he also hold the chairmanship of IAI (Ikatan Arsitek Indonesia, the only professional organization), Region of West Java, and member of Advisory Board in the Central Office in Jakarta. Member of Consultative Council of Al Islam Hospital in Bandung.
He is preparing a book that will be titled History and Development of the City of Bandung: an architectural review. Beside that, he is occupied by his research: Transformation and Persistence of Urban Architecture: a study of typo-morphology of buildings, environment and urban elements, the case of Bandung and other cities in West Java.
He can be contacted in:
Universitas Katolik Parahyangan
Fakultas Teknik Jurusan Arsitektur
Jl. Ciumbuleuit 94
Bandung 40141, Indonesia.
---
Return to LSAI Home Page.