International collaboration continues under COVID-19 [UTokyo-IIS Bulletin Vol.7]
UTokyo-IIS and MESA+ Institute, University of Twente:
partners in nanotechnology research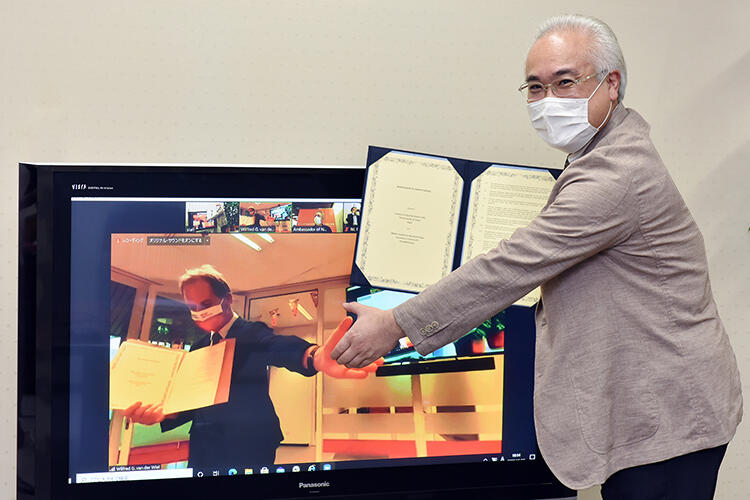 On October 5, 2020, UTokyo-IIS signed a Memorandum of Understanding with the University of Twente's MESA+ Institute, which is a leading nanotechnology research institute in the Netherlands and one of the largest of its kind in the world.
"This MoU aims at making the tie between MESA+ and UTokyo-IIS stronger, particularly in the field of nanoscience and nanotechnologies," says Prof. Kazuhiko Hirakawa, professor of Quantum Semiconductor Electronics at UTokyo-IIS.
According to Prof. Toshiharu Kishi, Director General of UTokyo-IIS, "Nanotechnology is becoming an essential basis for modern electronics, chemistry, biology, and various other fields. Indeed, nanotechnology has become a significant portion of our research activities at UTokyo-IIS."
Prof. Wilfred van der Wiel, professor of Nano Electronics and Director of the Center for Brain-Inspired Nano Systems at MESA+, used to be a postdoctoral fellow at UTokyo as well as Sakigake Fellow (PRESTO Fellow) of the Japan Science and Technology Agency (JST). His desire to continue working with nanotech researchers at UTokyo has helped to grow the relationship.
UTokyo-IIS and MESA+ have in common an interdisciplinary approach, which brings together researchers across disciplines such as physics, chemistry, bioscience, nanoeletronics and nanophotonics. UTokyo-IIS and MESA+ researchers already collaborate in a EU-Japan project called EUJO-LIMMS (Europe-Japan Opening of Laboratory of Integrated Micro Mechatronic Systems), as well as in nanophotonics research at a more individual level. The MoU is expected to further strengthen the collaboration between the two institutes, by facilitating exchange of researchers and students as well as sharing of important infrastructures for nanotechnology research.
The signing ceremony was conducted online in the presence of His Excellency Mr. Peter van der Vliet, the Ambassador of the Kingdom of the Netherlands in Japan, in a very friendly atmosphere. Professor Albert van den Berg, Scientific Director of MESA+, and Professor Kishi signed the MoU simultaneously and had a virtual handshake while being physically more than 9,000 km apart.
As a surprise gift for the occasion, UTokyo-IIS received a heap of tulip bulbs from MESA+. The planting ceremony was organized on November 26, 2020 as an UTokyo-IIS International Mixer event, where some 40 international and Japanese students, faculty and staff gathered on a beautiful sunny day and worked side by side to plant the tulips in front of the main research building of UTokyo-IIS.
"We believe they will be blooming beautifully in spring as a symbol of our friendship," says Satoshi Iwamoto, professor of Quantum Nanophotonics at UTokyo-IIS.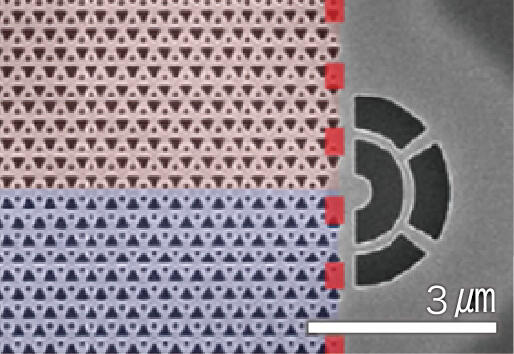 Topological photonic crystal: A novel way to manipulate photons based on topology
On March 24 and 25, 2021, UTokyo-IIS and MESA+ plan to host an online technical workshop. Even though Tokyo has returned to emergency mode under COVID-19 pandemic in January 2021, international collaboration will find new ways to go on.
Further information
https://www.iis.u-tokyo.ac.jp/en/news/3380/
Related links