Encouraging aspiring IIS students to excel in the world - Continental UTokyo-IIS Global Engineering Fellowship - [UTokyo-IIS Bulletin Vol.9]
In autumn 2021, UTokyo-IIS and Continental Japan announced the four winners of the first Continental UTokyo-IIS Global Engineering Fellowship. The grant is provided by Continental Japan to IIS graduate students who hope to make the world a better place to live through their research.
To mark the occasion of the inaugural fellowship, IIS invited the recipients to take part in a discussion on October 28, 2021, to talk about their research and their aspirations for future projects that can contribute to the betterment of our planet.
○Fellowship recipients
Yuki Sekimori : Maki Laboratory (2nd year in master's program)
Takumi Bannai : Yamazaki Laboratory (1st year in master's program)
Akira Fuji : Imai Laboratory (1st year in master's program)
Wang Hongyi : Kawazoe Laboratory (2nd year in master's program)※
※She did not participate in the discussion but contributed comments to this article. Her comments can be found at the end.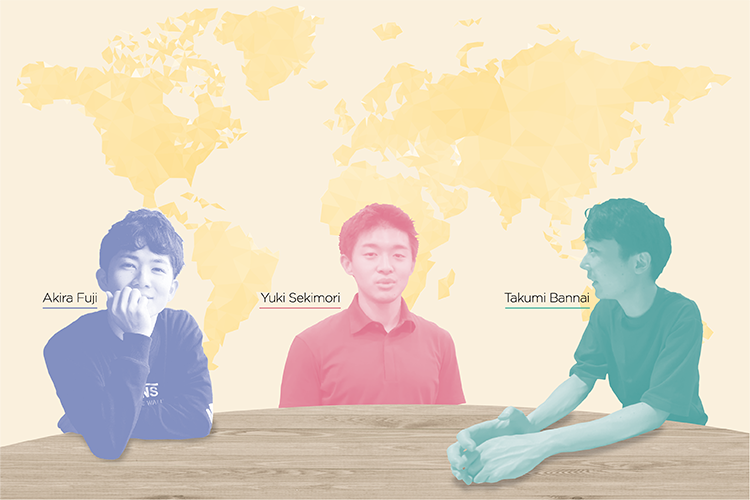 ○Tripartite talk
Could you tell us about your research?
Sekimori: I am conducting research aimed at developing an information system for operating multiple marine robots. Specifically, I use acoustic waves for communicating with and positioning robots. The system is expected to be applicable in a wide range of areas, such as exploring natural resources and managing offshore wind turbines.

AUV (Autonomous Underwater Vehicle)
Bannai: My research topic is the development of algorithms to estimate global precipitation levels by applying machine learning to satellite remote sensing data. I would like to use my research to help countries with insufficient radar capability to carry out countermeasures against flooding and global warming.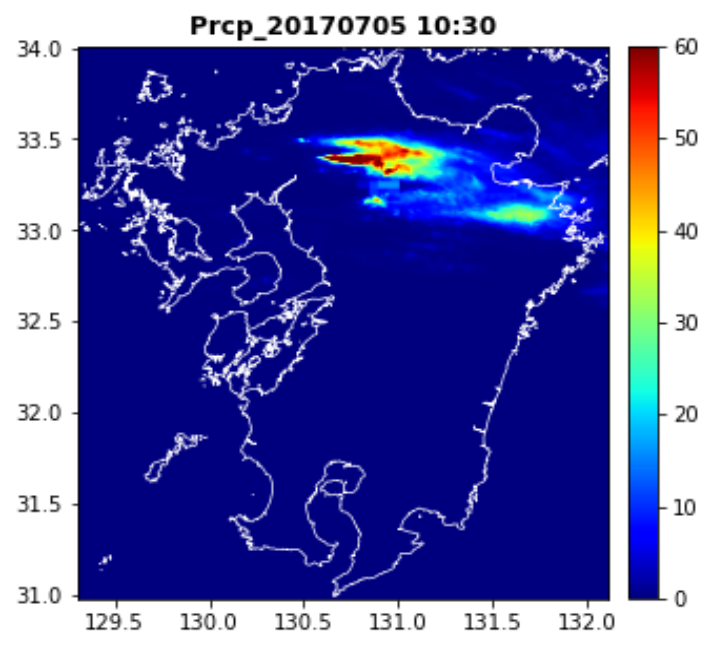 Precipitation (mm/h) from Radar-AMeDAS in Kyushu, Japan.
Fuji: I am currently taking a year off school and have just begun taking an internship at an architectural office in Rotterdam in the Netherlands. When I applied for this fellowship, I wrote "exploring sustainability in architecture" as my theme. But during my internship I'd like to think about what I'd like to research for my master's program.
Why did you decide to apply for the fellowship?
Sekimori: Japan is connected to the world via the sea, whose development requires international cooperation. I applied for the fellowship because I'd like to contribute to the betterment of the world by using marine robots.
Bannai: My lab teacher prodded me to apply. I thought applying for the fellowship would give me a chance to review the international experience I gained by studying in Canada and Singapore, in addition to how research at my lab can be expanded globally.
Fuji: As I was preparing for the internship, I learned about the fellowship. I applied because I thought it would give me more opportunity to think about how I can develop my research plan.
What were the advantages of applying?
Fuji: In the final interview, professors from different fields gave me valuable feedback. Many of them asked pointed questions to which I had not given much thought. I realized that I needed to think more deeply about my research theme.
Bannai: After I won the fellowship, I became more aware of the need to proactively conduct research that would benefit the world. Previously, when I conducted research into algorithms, I tended to look only at fine details and forget about how my research related to the world.
Sekimori: I became firmly determined to conduct research into technologies that Japan can proudly introduce to the world. Such technologies include those relating to preserving the environment and bringing harmony between industry and nature/the environment.
This fellowship was created this year to give a boost to aspiring IIS students after the Covid-19 pandemic deprived many students of their chance to study abroad. Did you have any difficulties in continuing your studies during the pandemic?
Fuji: It was very difficult. I started preparing for an overseas internship in March 2021, when the pandemic was raging. Initially, I didn't quite know how to look for an internship abroad. I sought advice from UTokyo graduates who had previously done internships abroad. One of my friends was also looking for an internship abroad. We tried to encourage each other. I finally managed to find an internship in Rotterdam.
Sekimori: I am grateful that IIS and Continental Japan set up this fellowship immediately after many students became unable to study abroad due to the Covid-19 pandemic.
Although there were some restrictions imposed on our visits to the campus, UTokyo still gave us the opportunity to conduct research at IIS and at an offshore experiment facility in Hiratsuka, Kanagawa Prefecture.
Bannai: I did not know about this fellowship, but I thought it was an interesting project that only an institution like the University of Tokyo could take on.
Even before the pandemic, we held online meetings. That's because our project participants are in various locations, such as Kyoto and South Korea. I was able to work at home because I could access my lab's computer server from home. So, the pandemic didn't affect me very much.
Could you tell us about your future aspirations?
Bannai: I don't believe I can complete all of my research during the master's program. I'd like to continue it one way or another after finishing the program. By cooperating with experts in other countries, I'd like to make my algorithms usable so that I can help solve environmental problems.
Fuji: I came to the Netherlands to look for a specific research theme, so it is difficult to answer that question. But since I specialize in architectural design, I would like to study cityscapes and building renovation in Europe.
Sekimori: I'd like to make field robots to take over dangerous and monotonous tasks that are now performed by humans. I'd like to advance to a doctoral program, and after that I'd like to base myself in Japan and help raise Japanese technology to a top-class, world level and revitalize the country's industry. Entrepreneurship is another option that I can pursue.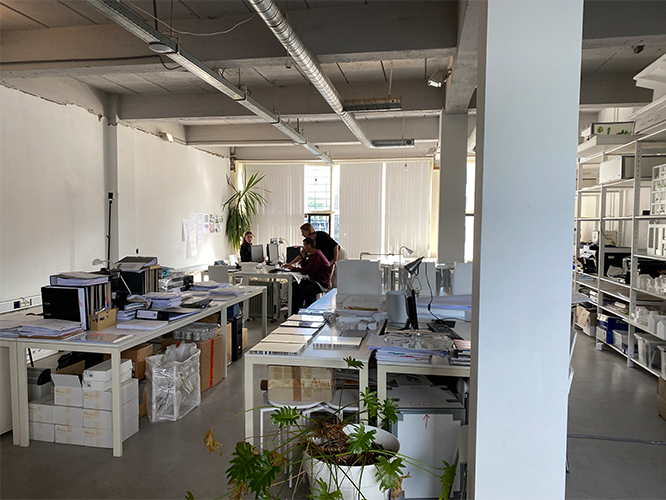 Internship destination workplace
○Comments from Wang Hongyi
From September 2021, through the world-wide exchange program, I came to ETH Zurich for architecture master program.
My courses are focused on architecture and landscape. On the course 'Serendipity: Water resourced', we did research about the tap water drunk in Zurich and present it through video works. We also dived into a cave, shooting, and recording everything interested.
It was fun and good way to learn connection between urban infrastructure and nature!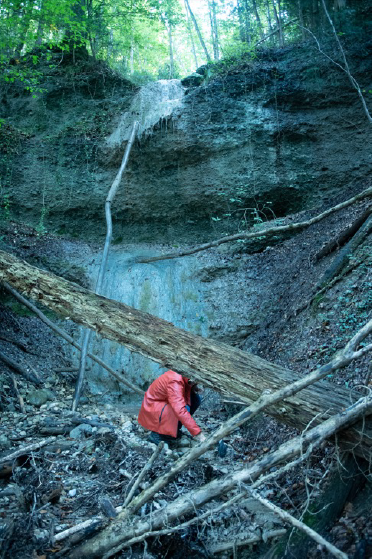 Recording the sounds from water resource
○Congratulatory message from Chigusa Kawanami, Director Human Relations, Continental Automotive Corporation
We are very pleased to receive many applications to the new Continental UTokyo-IIS Global Engineering Fellowship. Congratulations to the four winners of 2021!!
The corona pandemic is changing our lives, and we see this as an opportunity for shaping everyday life, driving innovation, and solving social issues through technology. Let your ideas shape the future!

Related links