【Online】Science × Design Showcase - Israel Month @UTokyo Komaba Research Campus (2022/3/9)
"Design enables complex scientific works to be communicated with greater reach [beyond the scientific community], empowering them with the knowledge to enable a shift in behaviour which enacts change"
- The University of Tokyo DLX Design Lab Treasure Hunting Handbook
https://www.designlab.ac/treasure-hunting-handbook/
The intersection of design and science is quite rare. The two may even seem contrary to one another. From rather unregimented and abstract, to the most precise and specific, together their outcome instils magic. The vision of such activity would, in the short term, allow both researchers and societies to adapt to the rapid tech advancement. Simultaneously, in the long run, we could bear in mind how we create an inclusive and advanced future.
In recent years, academic institutes around the world have been experimenting with creating new collaborations between designers and scientists.
In this event, four speakers from both scientific and design backgrounds, from Japan and Israel, will present recent projects where interdisciplinary teams of researchers and designers collaborated on concept ideation, material development and product design. They will share their experiences, challenges and outcomes.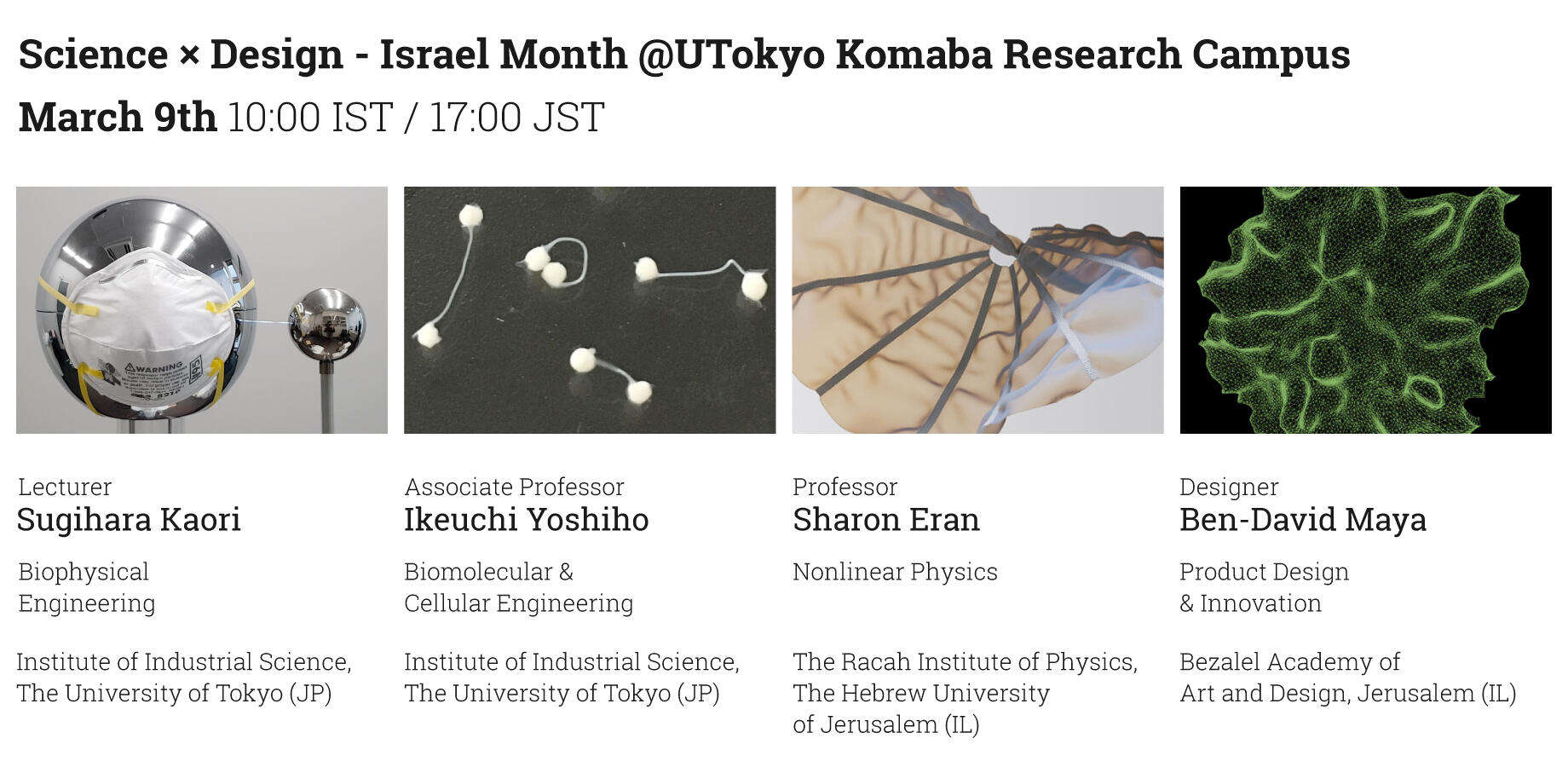 Event Details
- Date: Wednesday, March 9, 2022, 17:00-18:30 Japan Time (10:00-11:30 Israel Time)
- Venue: Zoom
- Language: English
- Fee: No charge
- Registration:. Advance registration required
https://science-design-israel-month.peatix.com/
- Contact:
Office of International and Corporate Relations
Institute of Industrial Science, The University of Tokyo
- This webinar is co-organized by DLX Design Lab, Institute of Industrial Science and ROLES (RCAST Open Laboratory for Emergence Strategies) of the University of Tokyo, as part of the "Israel Month @UTokyo Komaba Research Campus" event. For more information, please click here:
https://roles.rcast.u-tokyo.ac.jp/en/news/en20220131
Speakers:
Lecturer SUGIHARA Kaori - Biophysical EngineeringInstitute of Industrial Science, The University of Tokyo
Associate Professor IKEUCHI Yoshiho - Biomolecular and Cellular Engineering
Institute of Industrial Science, The University of Tokyo
Professor SHARON Eran - Nonlinear Physics
The Racah Institute of Physics, The Hebrew University of Jerusalem
Designer BEN DAVID Maya - Product Design and Innovation
Bezalel Academy of Art and Design, Jerusalem
Organizers:
Dr. Romi Mikulinsky (Ph.D.) - Head of the Master of Design Program in Industrial Design, Bezalel Academy of Arts and DesignYuri Klebanov - DLX Design Lab, Institute of Industrial Science, The University of Tokyo
Moderator:
Yuri Klebanov - DLX Design Lab, Institute of Industrial Science, The University of Tokyo