Age of Cyber-archaeology [UTokyo-IIS Bulletin Vol.7]
Associate Professor Oishi breathes new life into Tutankhamun artifacts with use of 3D measurement and image processing technologies
Cyber-archaeology, which creates a digital simulation of the past, is revolutionizing how archaeologists preserve and restore ancient artifacts. Associate Professor Takeshi Oishi of UTokyo-IIS, an expert in 3D measurement and image processing, is working closely with the Grand Egyptian Museum to devise a cutting-edge way to showcase a chariot that might have carried ancient Egyptian king Tutankhamun.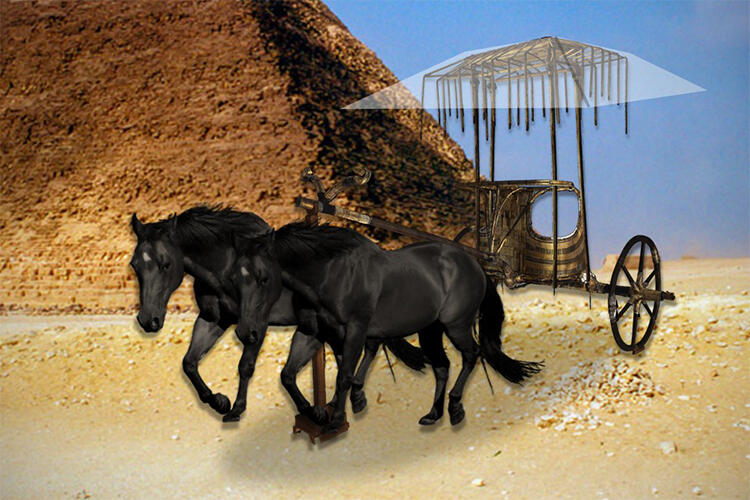 A team led by Associate Professor Takeshi Oishi of the Department of Informatics and Electronics has used cutting-edge technology to substantiate a hypothesis that one of six chariots excavated from Tutankhamun's tomb originally had an overhead canopy. The discovery makes it the world's oldest known chariot - a two-wheeled, horse-drawn vehicle generally used in racing or warfare - with a canopy.
Oishi's team digitally reconstructed the chariot with the canopy, which had long been considered unrelated artifacts and thus displayed separately, for exhibition at the Grand Egyptian Museum scheduled to open in Cairo in 2021.
"Based on 3D data we gathered from the chariot and the wooden canopy, we tried to digitally connect both artifacts by stretching the four poles supporting the canopy. The poles perfectly fit with four cavities on the chariot," Oishi said. Conducting such a project using the real artifacts - which date back to around 1330 B.C. - would be extremely difficult given their fragility, but the team's 3D digital reconstruction unlocked a mystery that emerged many years after the tomb was discovered in 1922. "It is really satisfying that a technique only we can do is helping make new archaeological discoveries," Oishi said.
The museum is considering introducing augmented reality and virtual reality technologies that would enable museum visitors that have smartphones to see how the chariot might have been used in ancient Egypt. The team plans to cooperate with the museum to develop suitable content for the display.
This project is part of the Grand Egyptian Museum Joint Conservation Project to transport
artifacts stored elsewhere to the new museum. Under this project, sponsored by the Japan International Cooperation Agency, the project group, including archaeologists, trains local staff tasked with conserving and restoring artifacts in Egypt. Oishi's team has also trained local staff how to conduct 3D measurements with a structured-light scanner, which uses projected patterns and a camera system to measure an object's 3D shape. The project's achievements were recognized in November 2020 by the 27th Yomiuri International Cooperation Awards sponsored by The Yomiuri Shimbun newspaper.
Oishi has been researching technologies to help conserve and restore archaeological sites and artifacts since he was a graduate school student 20 years ago. He has participated in many archaeological projects including those involving the Great Buddha statue in Nara, Japan; Roman temples in Italy; and the Angkor Thom temple complex in Cambodia. Oishi's lack of expertise in archaeology is actually an advantage of sorts because he has the freedom to enter any area of this academic field, be it in Europe, Asia, or the Middle East. "It is fascinating that computer-assisted calculations let us see things other people have never seen before," Oishi said, adding that the team's 3D analytical and image-processing technology has no parallel in the world.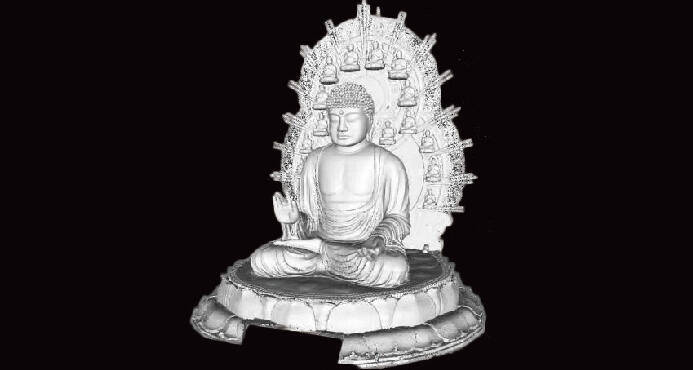 Nara Great Buddha Mar. 2001

Going forward, Oishi plans to focus on developing automated 3D measurement technologies with the use of robotics. "We are measuring the treasures of humankind," Oishi said. "Developing advanced analytic tools and robots that can measure artifacts safely and automatically will be crucial."
Further information
Related links